Outlook data file has reached the maximum size
Outlook file .pst has reached the maximum size. to reduce the amount of data in this file

Outlook .ost .pst data file has reached its maximum size. " Cannot postpone the reminder. The outlook.ost data file has reached the maximum size. To reduce the amount of data in this file, permanently delete some items that you no longer need.
Nowadays, no one is unaware of the fact that Microsoft Outlook is often used as an email client, and using this millions of users electronically exchange information. If the error message, "The Outlook data file has reached the maximum size", appears on the user's screen, then he needs to pay attention, and resolve the error earnestly.
In order to provide support on this, here we are covering know-how to fix this issue. In other words, we will look at how to deal with Outlook data file reached maximum size error. Here, you will come to know about some simple tricks that are helpful for managing large PST file.
Basically, MS-Outlook stores mailbox data items, in the PST format. And, these mailbox items include emails, calendars, notes, tasks, journals, etc. Here, Outlook supports two type of PST files; ANSI and UNICODE.
The Outlook data file has a specific data limit for storing the data items. Like, Outlook 97 to 2002, a maximum size limit is 2 GB. Outlook 2003 and 2007 has a maximum 20 GB limit. In Outlook 2010, 2013, and 2016, a maximum limit has been set to 50 GB.
Solution 1
Permanent solution is to move emails older than some time frame to archive folders
You can see a setting to move old emails like 'Archive items older than:' date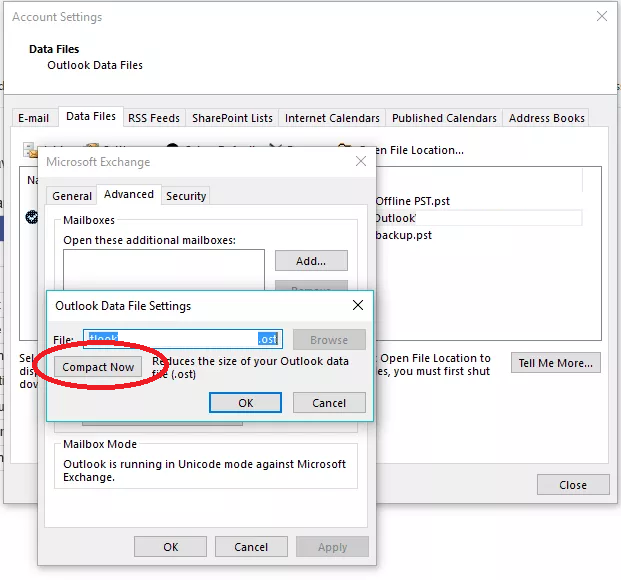 Solution 2
Method 1. Delete Unwanted Data Items
In order to reduce the size of PST file, delete unwanted data items that are not so important. So, follow the steps given below:
Open the PST file and select the items that are not that important for future use
Next, Delete all the items
Empty the Deleted Items Folder and permanently erase them.
Method 2. Archive Outlook Data File
You can also archive Outlook PST data items and delete the original PST file to troubleshoot the outlook data file has reached the maximum size office 365 error. Follow the mentioned step to perform this task:
First of all, Launch MS Outlook and go to File
Then, Click on the Clean up Tools >> Archive
Afterwards, Choose the date which you want to archive and click OK
Finally, all your selected data to archive PST file (separate archive folder)